About us
Seawings was founded in 1988 in order to meet the growing need for air and sea cargo throughout the Caribbean.
Curacao was chosen as the main office for its central location and to develop a Caribbean hub.
Seawings is part of the Maduro group of companies which was founded in 1837.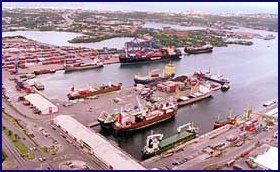 In this group several logistical companies are combined, such as shipping agency Sel Maduro + Sons, freight forwarder courier Maduro Transport Services and airlines GSA, Maduro Airfreight Services and Insel Air Cargo.
Bonaire is serviced from Curacao. In Aruba our sister companies such as Maduro shipping and Maduro Logistics Services also belong to our group.
In Curacao we have a well-trained staff to handle your logistical needs, this includes custom brokers, drivers IATA and IMDG trained staff.
Due to our geographical location we understand the need for a 24/7 mentality which is present in our office.
Please contact our team  for any questions or go straight to request a quote.